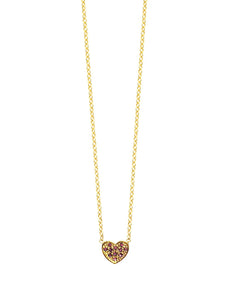 Our mini heart necklace with Pink Tourmaline accents. Pink tourmaline represents
 a love of humanity and humanitarianism. It is worn to promote sympathy towards others. It carries the virtue of unconditional love and friendship.
Carat weight: .07ct
Length 1: "Adjustable 15" - 16""
Metal: "14K Green Gold"
Product collection: "KK Minis"
Product type: "Necklace"
Stones: "White Diamonds"
Item # MC-1002-N-GG-PT