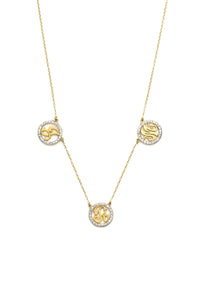 This is one of our all time bestselling items. Memorialize your children, grandchildren, nieces or nephews with our Script Circle Letter Necklace. Each circle measure 12.5 mm in diameter.
Carat weight: .48ct
Length 1: "Adjustable 15" - 16""
Metal: "14K Green Gold"
Product collection: "Inspirations"
Product type: "Necklace"
Size: circle diameter 12.5 mm
Stones: "White Diamonds"
Item # IN-3118-N-GG-WD-3